Charitable: Year One in Review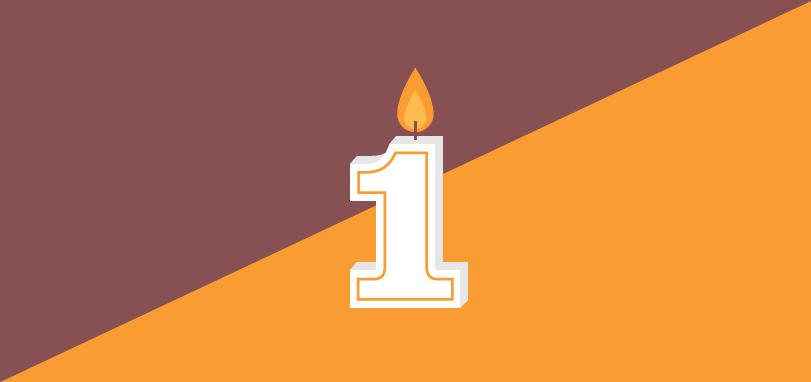 One year ago today, we released version 1.0 of Charitable on WordPress. As we turn a new page, I wanted to take some time to reflect on and share our experiences over this past year.
The Background Story
The team behind Charitable consists of me, Eric, and Wes. We've been friends since the 90s; we were groomsmen in each other's weddings; and we created our business together in 2013. Wes is the one who makes things look good; I type all the code.
Before Charitable, we had already launched a few other products, most of which were sold through the Envato Marketplace. One of those was a WordPress theme called Franklin. It was a crowdfunding theme, built on top of a plugin created by the talented guys from Astoundify. Things got complicated when the plugin, which had been acquired by IgnitionDeck, disappeared from the WordPress repository, but our experience with Franklin was a catalyst for the development of Charitable.
Supporting Franklin showed us that there was a genuine lack of good fundraising solutions in the WordPress space. People liked the way the Astoundify plugin extended Easy Digital Downloads. Most other WordPress donation plugins at that time were fairly simplistic in nature, and many only allowed you to accept donations with PayPal, so the huge selection of payment gateways and other Easy Digital Downloads add-ons was a major drawcard.
Commit #1 for Charitable was made on June 24, 2014. We were aiming for a private beta launch by September or October that year. October came and went. 2014 came and went. Development was still happening, just not at the pace I was hoping. But we were talking to non-profits about their experiences with other fundraising platforms and plugins, and we were learning a lot.
We finally had a private beta ready to go by June 2015 — more than a year after development started. That private beta period helped us refine many aspects of Charitable and the extensions (Ambassadors, Simple Updates, Anonymous Donations and User Avatar were all in beta at the same time). Two months later, we finally pushed version 1.0.0 of Charitable to WordPress.
Early Challenges
Another new WordPress donation plugin launched last year and made a huge impression on many people: Give. It launched in April, while I was still thick in the development of Charitable.
I'll be honest: That was really hard for me personally. Part of the appeal of developing Charitable was that there just weren't any great WordPress donation plugins around. With Give on the scene, that was no longer the case. I felt like somebody had yanked the rug from under me, and we'd be playing second fiddle.
That wasn't the only challenge. When we first added Charitable to the WordPress repository, downloads were slow to take off. I remember checking in a couple times a day, seeing maybe one or two extra downloads and wondering how we were ever going to build a viable product out of this. It felt like it took forever just to reach 20+ active users. One day, we ticked up to 30+ active users. The next day, we'd dropped back to 20+ active users!
Sales also took a while to really get going. We had retired nearly all of our products on the Envato Marketplaces at the end of August last year (here's why), which meant we'd lost a significant chunk of monthly revenue. I was hoping that Charitable would start to claw back some of that, but that September, we made a grand total of $98 in Charitable sales.
Looking back, I realize that the major challenge for me during those months was personal. Creating and releasing a product is exhilarating, but it can also make you vulnerable. Charitable is something I care about a lot, something I've poured myself into — sticking it up on the internet for anyone to download feels risky. What if people hate it? What if no one uses it? What if no one else ever cares about it as much as I do?
Redefining Success
Slowly, our number of active users started to grow. So did sales. In October, we made just under $500; the next month, that was up to a little more than $1300.
Also encouraging were the reviews that started to come in. After reading so many plugin developers' stories about unfair 1-star reviews on their plugins, I was nervous about the kinds of reviews we would get. But as reviews for Charitable came in, people were always really positive about the plugin.
We found ways to set Charitable apart. We focused on peer to peer fundraising. We expanded our payment gateway support (here, here and here). We started selling our Plus and Pro packages as Pay What You Want products.
Of course, even when you start to get positive reviews and more sales, it's not a cure for doubt or disappointment. If you spend all your time comparing yourself against others, you will never be happy. I can't count the number of times I've told my seven-year old son that. I've spent the last year reminding myself of it too.
It reminds me of Pippin Williamson, who created Easy Digital Downloads, Restrict Content Pro and Affiliate WP. I could look at the $576,000 that Pippin and his team earned with Easy Digital Downloads in 2015 and feel envious. But read Pippin's 4-year anniversary post for Easy Digital Downloads and you'll see that he could feel exactly the same way about others who have enjoyed even greater success than he has:
A bold face lie would be to tell you that I've never felt down or burdened when looking at the success of others.
As we turn the page on our first year, I can't help but define the past year as a success. On the revenue front, we earned $20,000. Sales have been on a steady incline since we started.
We have gone from a having just one developer working on Charitable to a point where our last major included several significant contributions by other developers.
And those positive reviews keep coming in. One year on, Charitable has had 46 reviews — all of them 5-star.
Interacting with users through our private support channel has also been a really positive part of the last year. We've been proud to be able to help hundreds of users use Charitable, and the feedback we have received has been consistently positive. We received this note from a new user just yesterday:
The plugin is awesome, really nice work.  I used to work at a SaaS fundraising startup that was very similar to this, so I understand the immense value of everything you've written. I really like your model of offering the individual plugins but also rolling them up into packages that are far more attractive. To get all of this for <$300 is pretty amazing.
Most meaningful of all has been seeing how Charitable has been used. Here are just a few organizations that are using Charitable:
The time and effort that goes into creating Charitable isn't about making a plugin for the sake of making a plugin; it's about creating a tool. To see that tool playing a small part in helping organizations make an impact on the world is inspiring and humbling.
I can't wait to see where the next 12 months of Charitable's journey takes us.