Pricing Update: Introducing the Agency & Lifetime Packages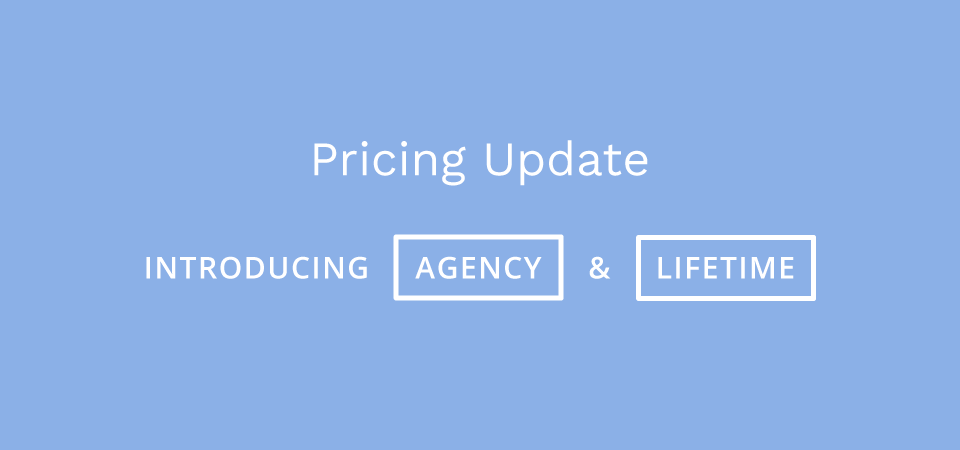 Charitable's pricing structure has changed since this blog post was published. The Lifetime package and the 10% renewal discount are no longer available. For the current available prices, please visit:
Today, we are rolling out a number of changes to the pricing of our products, as well as introducing two exciting new packages: Agency and Lifetime.
We know you're busy, so here is quick summary of what has changed:
The Agency package is a 5-site Pro license designed for business who work with non-profits.
The Lifetime package is the forever Pro package, for people who never want to worry about renewing their fundraising software again.
Some prices are going up: The Plus & Pro packages are now $129 and $279. Payment gateway extensions are now $59.
We have retired the Starter package.
We have reduced the renewal discount to 10%. Existing customers will continue to enjoy a 50% discount on their subscription renewals.
Introducing the NEW Agency & Lifetime packages
Agency: The package for smart businesses
We get it. Buying a new Charitable Pro license every time you're working on another non-profit website is a pain. So we've made it easier for you.
The Agency license is perfect for any agency, developer or freelancer who works with non-profits.
You can use the Agency license on 5 sites. At $369, you save more than 70%.
Lifetime: For the lifelong fans
Love Charitable? This one's for you.
The Lifetime license is for the non-profit who is ready to go all-in on their fundraising. Sign up once, get all Charitable's powerful features, and never worry about renewing your license again.
The Lifetime package gives you a single-site, forever license for $699. That's less than you'd pay to buy & renew Charitable Pro for three years.
Extension & package pricing changes
It has been more than two years since we last changed the prices of our products in a significant way. Today, we are increasing the price of our Plus and Pro packages, as well as a handful of our extensions.
The Plus package is now $129. With the total package valued at $558, you save more than 70% when you get the bundle.
The Pro package has gone up in price to $279, which is more than a 70% discount compared with the total package value of $994.
Each of the payment gateway extensions (Stripe, Authorize.Net, PayFast and PayUMoney) have been bumped up to $59 for a single-site license.
One additional change is that the Starter package has been removed. If you have an existing subscription for the Starter package, you can continue to enjoy it for as long as your subscription remains active.
As a small team committed to providing non-profits with excellent WordPress-powered fundraising software, we have always considered fair and affordable pricing to be part of that.
We believe that powerful tools like peer-to-peer fundraising and recurring donations should be accessible and affordable for small non-profits with limited budgets.
Over the past two years, we have continued to add more value to our products, especially the Plus and Pro packages. Here's a small sample of some of the extra features that have been added:
Added support for more email marketing providers. Our all-in-one email marketing extension now supports MailChimp, Campaign Monitor, Mailerlite, ActiveCampaign, MailPoet and Mailster.
We greatly improved Recurring Donations by adding support for more renewal periods and simple subscription cancellation.
Helped non-profits boost their fundraising by having their donors pay the gateway fee.
Made our Stripe integration 100% SCA-ready to ensure non-profits made a worry-free transition to the new SCA laws in Europe.
Added the Donor Comments extension, giving donors the ability to leave comments when they donate.
Some things haven't changed a bit: Charitable is still the most affordable, powerful WordPress donation plugin around.
10% renewal discount
Our final pricing change is to change the renewal discount for all our products from 50% to 10%. This updated renewal discount will apply for all future purchases.
If you are an existing customer, your 50% renewal rate is locked in for life for any licenses you currently have.
Scale up your online donations with Charitable
We firmly believe that Charitable is still the most powerful, affordable WordPress donation plugin.
We set Charitable's prices carefully, making sure it stays affordable while also that we can continue to grow and improve it for a long time to come.
And remember: Unlike most other fundraising software and one very popular WordPress donation plugin, we never charge transaction fees.
Start collecting donations with WordPress today
Join 10,000+ non-profits raising more money online with Charitable.