Introducing Charitable 1.7.0.8 – Import/Export, Minimum Donation Amounts and More!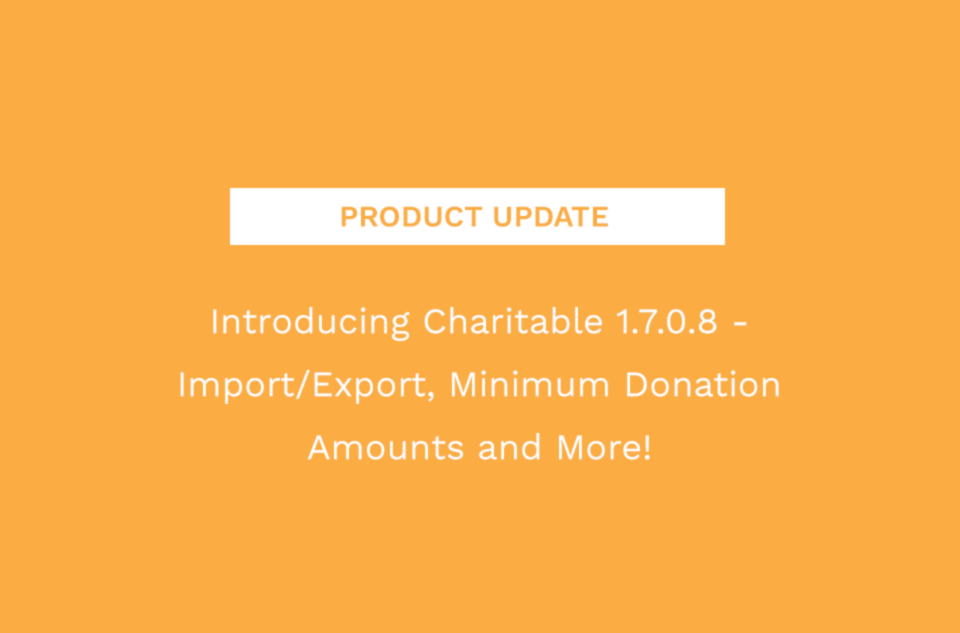 At Charitable, we're always listening to our users and building the features they need to get more donations from their website, faster!
We're thrilled to introduce Charitable 1.7.0.8 which gives our users greater control over their campaigns than ever before.
Importing and Exporting
In Charitable 1.7.0.8, we have introduced a new Tools tab with new Import and Export capabilities. You can now import and export campaigns and donations. This allows you to quickly set up campaigns on dedicated sites or quickly launch new donation platforms with a few clicks.
We will continue to expand on this functionality in the coming months with ability to import and export recurring donations and peer-to-peer fundraising campaigns.
New Campaign Controls
In addition to the new import/export features, we've introduced brand new campaign controls get the most donations possible from each campaign.
Ability to set a minimum donation amount for a campaign.
Ability to set a default one-time donation amount for a campaign.
Ability to choose where you wish the minimum donation message should appear on the donation form.
Greater flexibility to choose where notice and validation messages appear on a donation form.
Defining a highlight color that you can easy apply to your donation buttons and messages without code.
Try the New Updates Today
We know you'll love them, and we have so much more planned for 2023.
In the meantime, we hope you'll enjoy the added power and flexibility that our new features offer.
Have any questions? You can reach our customer support team, and we'll be happy to assist.
Thank you for your continued support!
– David and the Charitable team