Charitable PDF Receipts allows your donors to download a PDF copy of their donation receipt. Receipts can be accessed on-demand via your website, or automatically attached to your donation receipt emails.
How to install and activate the PDF Receipts plugin
Like all Charitable extensions, PDF Receipts is a WordPress plugin and ca be installed like any other plugin. Here's the step by step process:
First, download your plugin from your account page or your purchase receipt email.
In your WordPress dashboard, go to Plugins > Add New.
Click the Upload Plugin button at the top of the page.
Select the zip file you downloaded for PDF Receipts earlier and click Install Now.
Activate the plugin!
After activating the PDF Receipts plugin, your donors will be able to download their PDF receipts from their donation receipts on your website, with no further configuration required.
How to update your organization's contact details
Your organization's contact details are included in the PDF receipt in the top right corner, as shown below.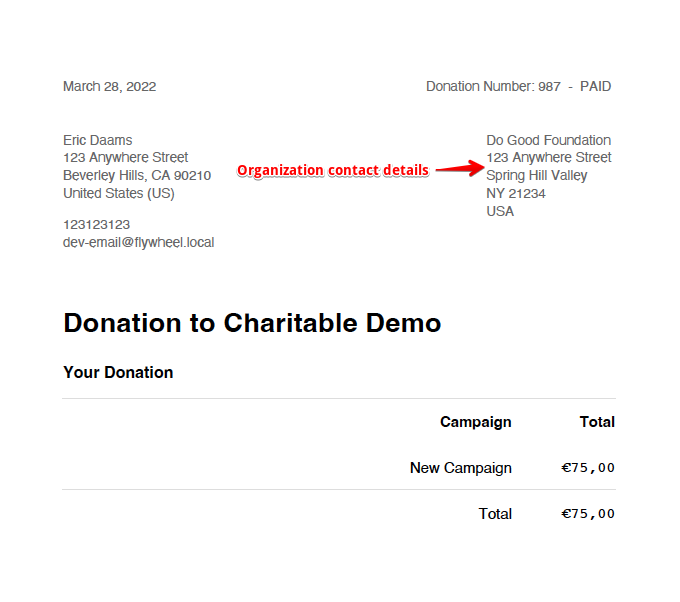 The contact details can be configured via your Charitable settings:
Go to Charitable > Settings > General.
The "Contact Details" is the first setting shown. Add or edit your details here and click Save Changes when you have finished updating them.

How to attach receipts to emails automatically
To save your donors the effort of creating their PDF receipt later, you can have their receipt generated automatically and attached to their email receipt.

To enable this option, follow these steps:
In your WordPress dashboard, go to Charitable > Settings > Emails.
Your "Donor: Donation Receipt" email should already be active, but if not, activate it now and then click on Email Settings.

In the email settings page, enable the "Attach PDF Receipt" option and then click Save Changes.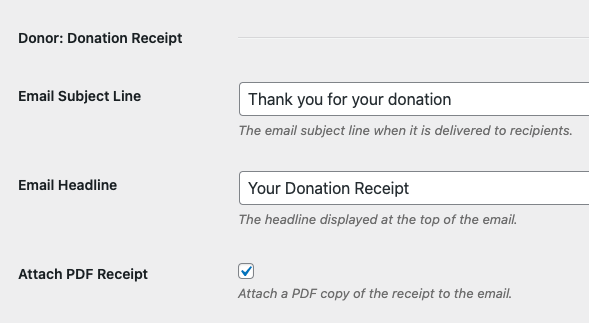 After doing this, all of your donation receipt emails will automatically include a PDF receipt as an attachment.
If you are using the Recurring Donations plugin, you may be using a custom donation receipt email only sent to recurring donors. You can have PDF receipts attached to that email as well by following the same steps outlined above for the "Donor: Recurring Donation Receipt" email.
How to allow your donors to send their receipts via email
One feature included in PDF Receipts is the ability for your donors to send their receipts via email to someone else. This option is turned off by default but can be enabled easily:
In your WordPress dashboard, go to Charitable > Settings > Extensions.
Scroll to the "PDF Receipts" section and enable the option to allow donors to send their receipts. This option will only be available if the "Donor: Donation Receipt" email is activated.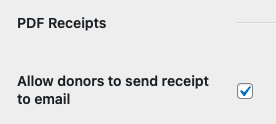 On the donation receipt page, donors can now easily send their receipt to their partner, accountant or to a different email address they use.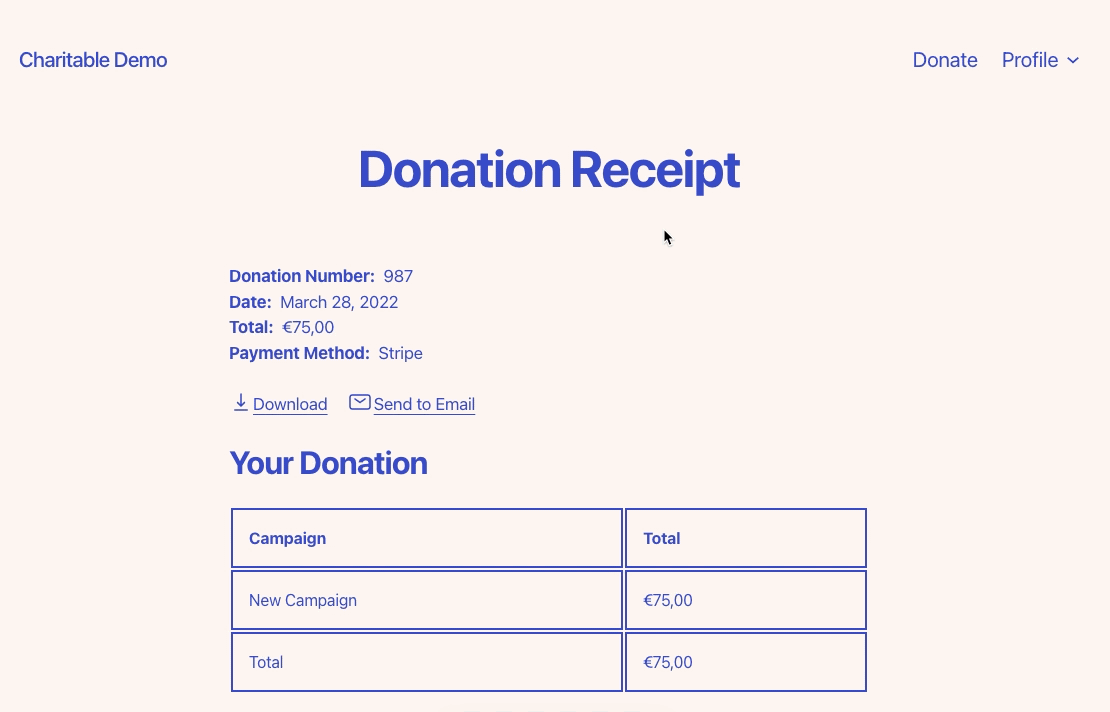 Note: The "Send to email" button is only shown for donations which have been marked as Paid.