How to Build Your Non-Profit's Brand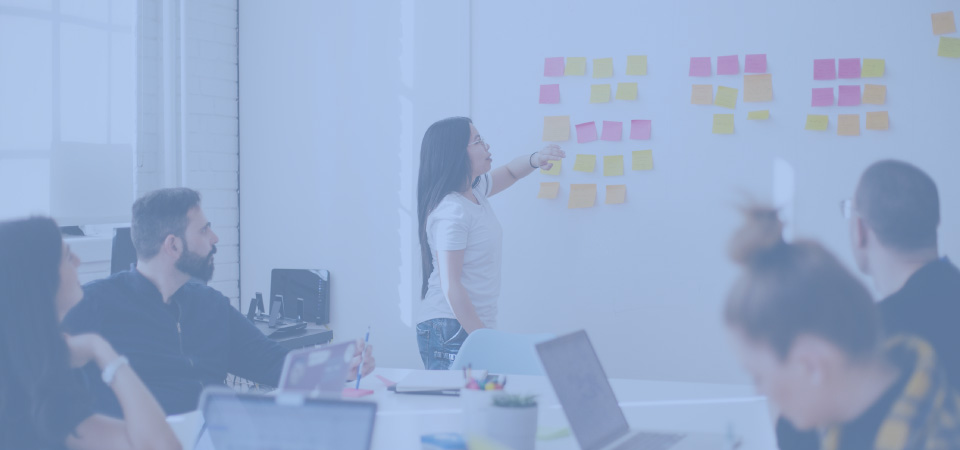 The term "branding" might seem reserved for for-profit companies – but it's just as important for non-profits to set this out.
In this guide, we will show you how to build a real connection with your supporters, and maintain a consistent visual identity. We'll explain the value of building your non-profit's brand, and we will showcase a few key examples to inspire you.
What does "branding" mean in the non-profit sector?
Let's quell the myth that "branding" is only for for-profit organizations. It's just as important for non-profits.
Branding is essentially defined by what people think and feel when they see your organization. It's the process of giving meaning to a specific charity by creating and shaping a brand in your audience's or donors' minds. Through this, supporters can quickly identify and "experience" your brand, giving them a reason to support you. And keep coming back to donate!
Common challenges non-profits face in brand-building
For-profit businesses usually deliver instant gratification with a product or service. For non-profits, that's not the case – unless you're selling products where the revenue will go to your cause. That's why it's crucial that your audience feels connected to your mission. Otherwise, they'll feel little urgency to "act now".
A huge part of branding is building trust between you, the non-profit, and them, the consumer or supporter.
So where a for-profit organization would promise to deliver your product to you, a non-profit must also deliver on their promise of sending donors' money across to the cause. However, someone who donates to a charity raising funds for cancer research won't have the same tangible product at the end if they were purchasing a product. For that reason, non-profits have to work even harder to show why their missions are worthwhile and demonstrate how the donor's support has helped their mission.
The benefits of a strong non-profit brand
Building your non-profit's brand is challenging. But once your audience strongly identifies with your brand, their reason for supporting you becomes highly emotional, which is a vital factor in their loyalty to your mission. They'll become part of your story, care about the campaigns you're advocating and can more easily transition into peer-to-peer fundraisers.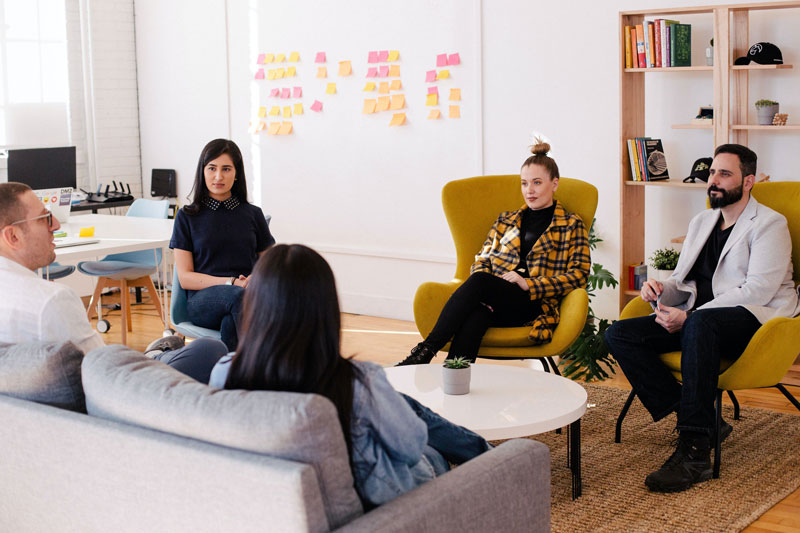 Here's how to start building your non-profit's brand
1. Define your goals
Ask yourself, what is your non-profit trying to achieve? Which cause is relevant to you? How much money do you need to raise to achieve your objectives? The answers to these questions may change over time, but defining what really matters to your non-profit right now is essential to building your brand.
For example, "My non-profit is trying to raise money to build a local community center. We will need $8,000 to finish the site. I need to reach out to neighborhoods around me to reach my objective."
Here, the goal is clearly defined, as well as the route to achieve that goal.
2. Understand who your audience is
Who does your charity speak to? Local activists? Blood donors? Low-income parents?
Defining your audience is critical to building your brand. Pick the most important two to five audience groups and develop a profile or user journey for each one, explaining the reasons why they would support you. List out their typical age, and write out their pain points, what really matters to them, what motivates them and what they hope for.
So for example, if your non-profit helps protect animals from cruel treatment, one of your audience groups is likely to be vegans. They would be interested in your cause because it's likely they share the same sentiments as you (you can determine that they also hope for a world free of animal cruelty, given that they opted against having animal products in their diet), and thus share the same pain points as your non-profit.
3. Define the impact you have
Any brand, whether it's a for-profit or a non-profit, needs a clear message that's relevant and compelling to their audience. What kinds of causes are you focused on? How do they stand out against others? Why should supporters turn to you, your cause, your offerings and your products?
Whether you're helping raise awareness of a specific type of cancer or fighting against animal cruelty, make your message clear and your values consistent. On your website, show why you care about these causes, and how support for them will achieve your goals.
Part of this is defining your mission statement. Why does your non-profit exist and who does it serve?
Take a look at some example mission statements below.
Feeding America
To feed America's hungry through a nationwide network of member food banks and engage our country in the fight to end hunger.
Charity:water
Bringing clean and safe drinking water to people in developing countries.
New York Public Library
To inspire lifelong learning, advance knowledge, and strengthen our communities.
4. Have a consistent identity, both in terms of visuals and tone of voice
From your website to social media, to external communications, marketing, flyers and emails, it's important you have a distinctive look to your non-profit. This will make you stand out and become instantly recognizable as you reach out for support.
The quality of your visual design will determine how much attention your organization receives — and boost people's willingness to engage with it.
So make sure that when you're building out your WordPress site, you use a theme that speaks to your non-profit, and then tailor it to match your unique voice.
Three examples of great non-profit brands
Below are some great examples of non-profits using a consistent visual identity (along with brand messaging).
The Big Issue is one of the UK's leading social businesses which offers homeless people the opportunity to earn a legitimate income by selling the magazine, regain some financial stability and overcome long standing social disadvantages.
The Big Issue UK have a clear visual look and feel, with strong red, white and black coloring and distinctive messaging. As part of explaining who they are and what they do as a non-profit, their mission is to connect Big Issue vendors to the vital support and specialist services that enable them to rebuild their lives and determine their own pathways to a better future.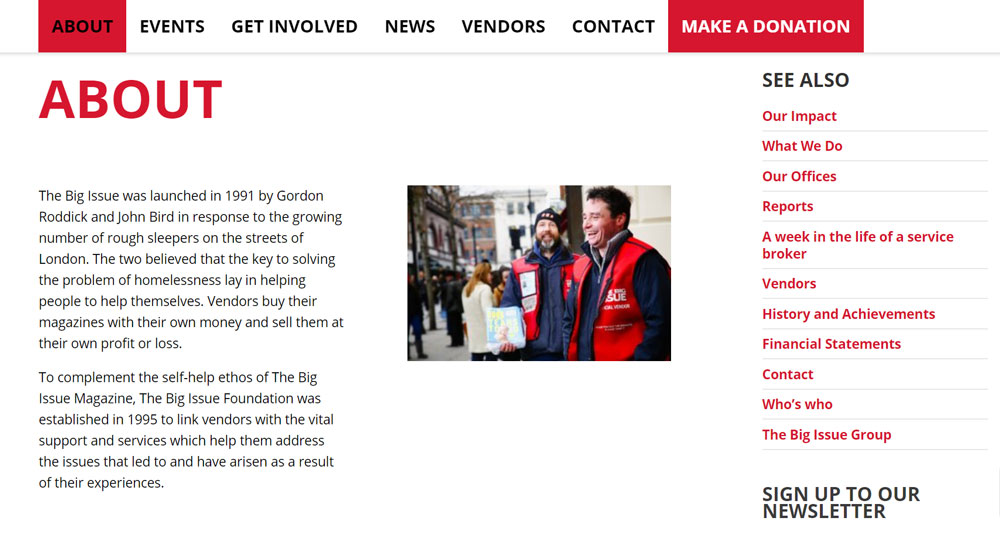 They've also clearly detailed how and why they began, and how their product (the magazine) goes to combat homelessness in London by empowering Big Issue Vendors to sell the product themselves.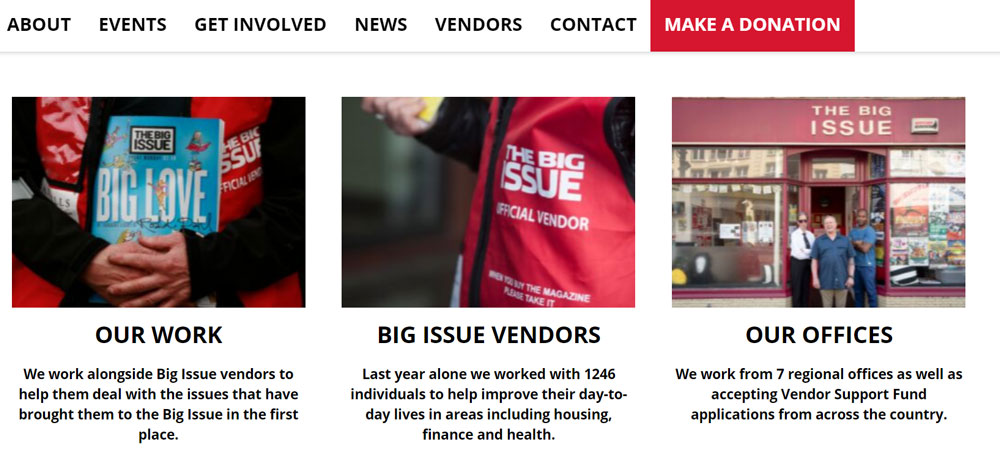 The Big Issue Vendors are a big part of this non-profit's brand. You recognize them immediately on London's streets, and you know straight away the work they're doing to help. Their tagline is "a hand up, not a hand out".
Amnesty International's visual branding is clear and unique — yellow, black and white coloring, and their famous candle logo.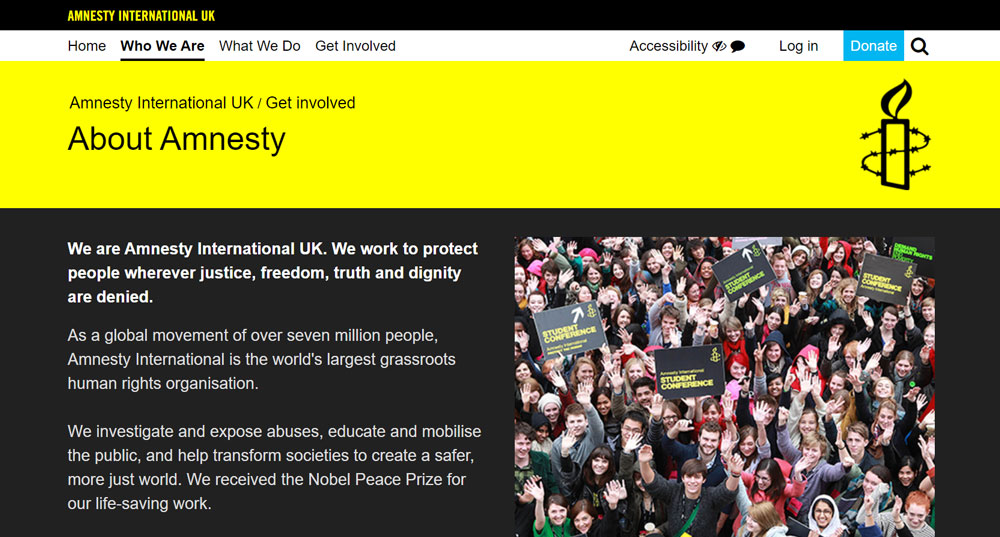 But Amnesty International has gone even further in distinguishing themselves as a unique charity, underpinned by a specific set of brand values: empowerment, persistence, integrity and courage.
Here, they've listed out how they're resonating with their audiences through these messages.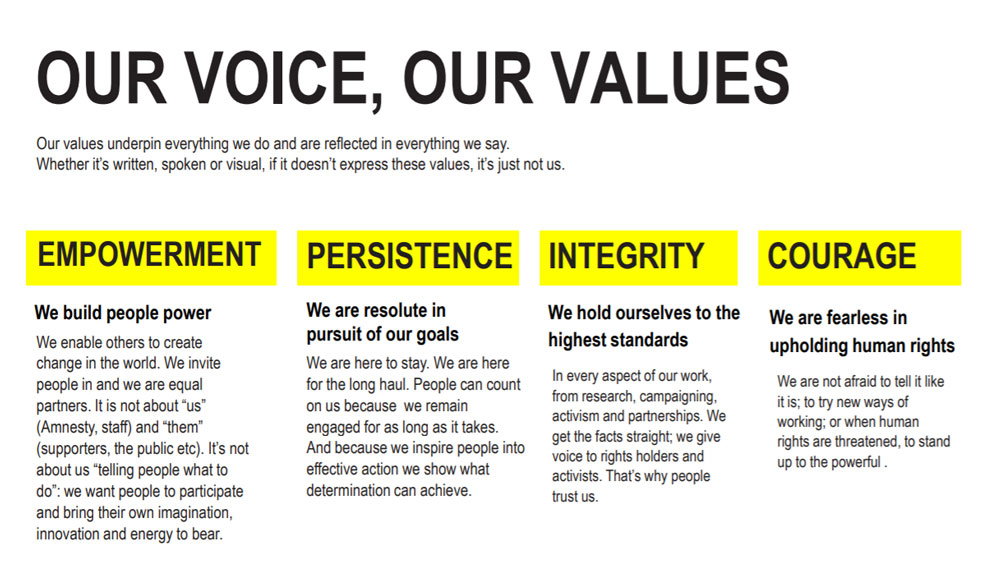 They've shown how they're bringing to life their mission as human rights activists through these pillars, which act as a frame of reference for their campaigns and communications.
Marie Curie is a non-profit helping families deal with terminal illness of a loved one, including end of life care. Their mission is to help people and their families living with a terminal illness make the most of the time they have together by delivering expert care, emotional support, research and guidance.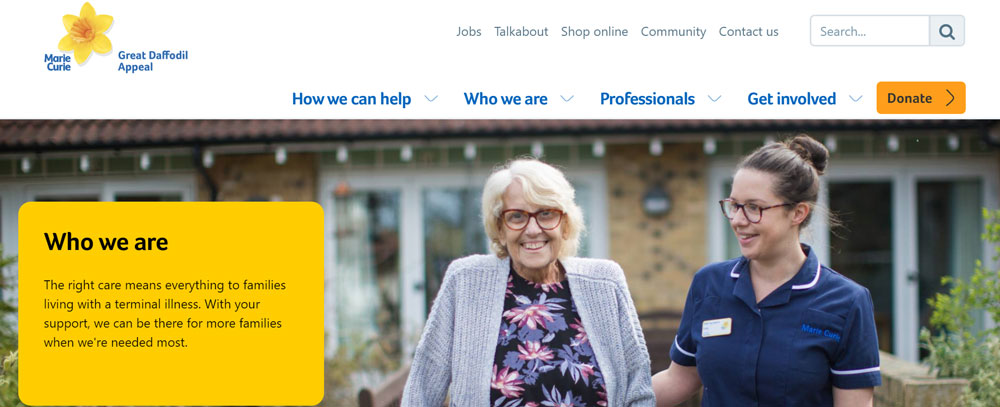 Their visual look is clean and simple, with their daffodil logo making them instantly recognizable. The daffodil appeal is a key driver to encourage donors to give vital care to more people living with a terminal illness.
Interestingly, a few years ago, Marie Curie went through a rebrand to extend their help to those suffering with a wider range of illnesses other than just cancer.
"While most of the people we care for have cancer, others have a whole range of illnesses, including heart or lung disease, dementia or motor neurone disease. But many people don't know that, including people who may need our help. So we're going to be making it clearer to the public, and to healthcare professionals, that we're here for people with any terminal illness, including terminal cancer," says Jane Collins, the charity's chief executive.
As such, they updated their messaging, visual look and their name to Marie Curie (previously Marie Curie Cancer Care).
In conclusion…
Many non-profit organization leaders are wary of using brand-building models, associating this with the primary ambition of gaining money, and are worried that the focus of profit-making undermines the needs of the organization and its main purpose. However, as we've explained here, the main goal in non-profit brand-building is to simply distinguish you and your cause, and overall create a greater social impact and stronger external communications.
Remember the key points we've laid out here, and start from the beginning when creating your non-profit's brand. First, define your goals and audiences, and then look at creating a visual identity, look and feel, tone of voice and layout. Then, you'll be able to build closer, more emotional connections with your audiences and show them the value of your work.
Enjoyed this article? Read this next: