Charitable Donor Comments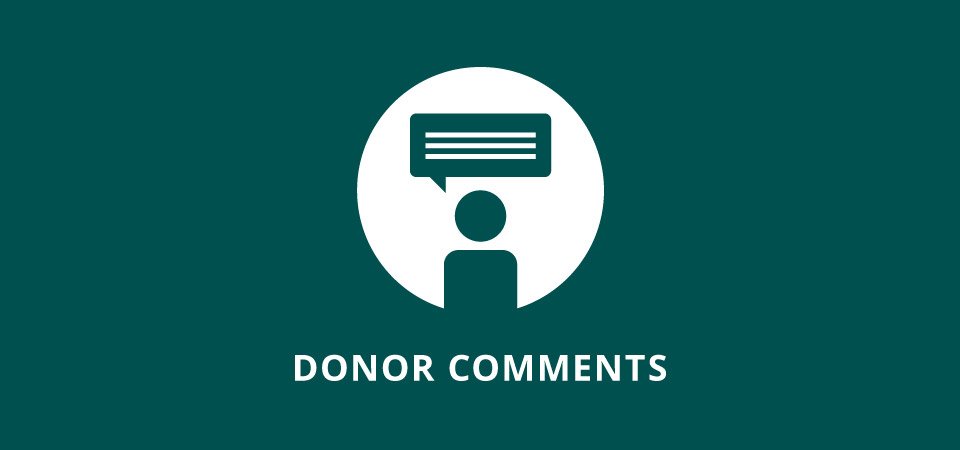 Give your donors the ability to share a message when they donate.
Charitable Donor Comments adds a comment field to your donation form, allowing your donors to leave a message when they donate. The comment field can be customized easily via the WordPress Customizer.
Features at a glance
Easily tweak the comment field settings via the WordPress Customizer.
Manage donor comments through the Comments area in your WordPress dashboard.
Respect donor anonymity when comments are left by anonymous donors.
Include comments in donation emails, like the donation notification for website admin.
Automatic spam checking with Akismet.
Enable / disable comments on a campaign by campaign basis.
Show comments on the front-end
Charitable Donor Comments integrates seamlessly with the Donors widget, displaying comments alongside the donation details.
You can also show donor comments in the regular comments section of a campaign, where the comments are woven into the natural flow of the campaign discussion area.
If you are also using our Anonymous Donations extension, you don't need to worry about the comments revealing the identity of the donor. When an anonymous donor leaves a comment while making a donation, their comment name is automatically set to "Anonymous" and the Gravatar associated with their email address is not used.
Managing comments
When a donor leaves a comment, it is stored as a regular WordPress comment and can be viewed and managed via the WordPress dashboard under the Comments section.
Comments are also shown on the Donation Details page and can be approved from there.
You can also include a donor's comment in the Donation Notification email and other emails related to that donation.
Minimum requirements
More