Presenting The New WPCharitable Campaign Visual Builder!
Welcome to a new era of effortless and captivating fundraising with Charitable v1.8.0!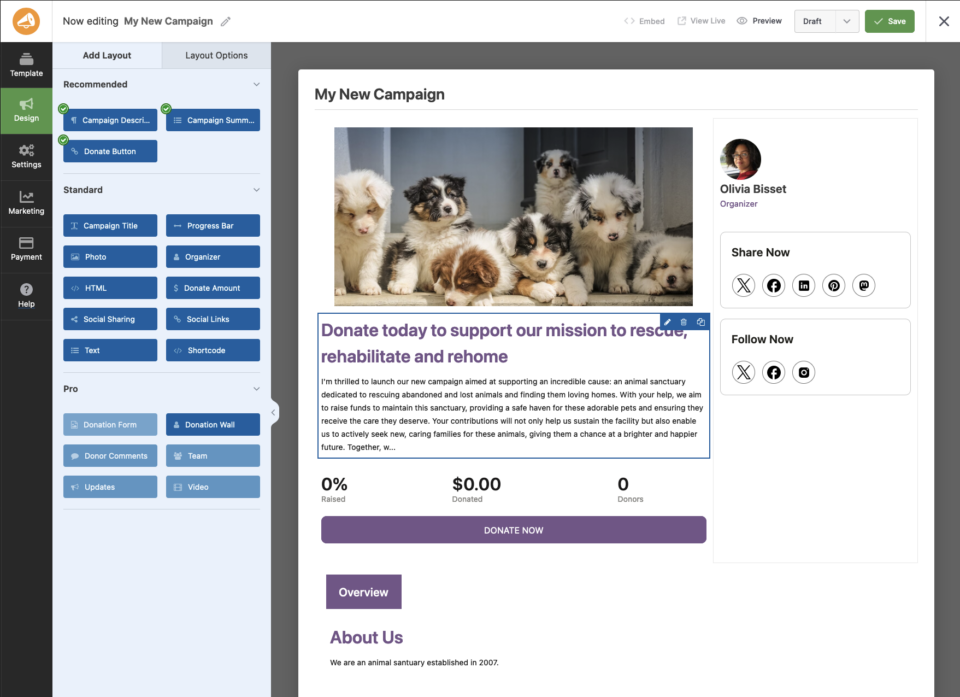 Creating campaign pages has never been this fast or easy!
Our team is thrilled to introduce an innovative feature that will revolutionize the way you craft and showcase your campaigns. At Charitable, we understand the heart and soul of any successful fundraising lies in its presentation, and with this new tool, we're putting the power of creativity and customization directly into your hands. Add text, photos, donation buttons, a bio, progress bar and more to customize each of your campaigns uniquely for maximum effectiveness.
Drag and Drop Blocks
Charitable offers default blocks in the core plugin – from high recommended blocks we feel everyone should probably have on a campaign page… to some great standard ones to take advantage of. Our pro fields – some included in our adds with our paid plans – offer even greater potential and creativity.
Here's some of the common blocks you'll have available to you: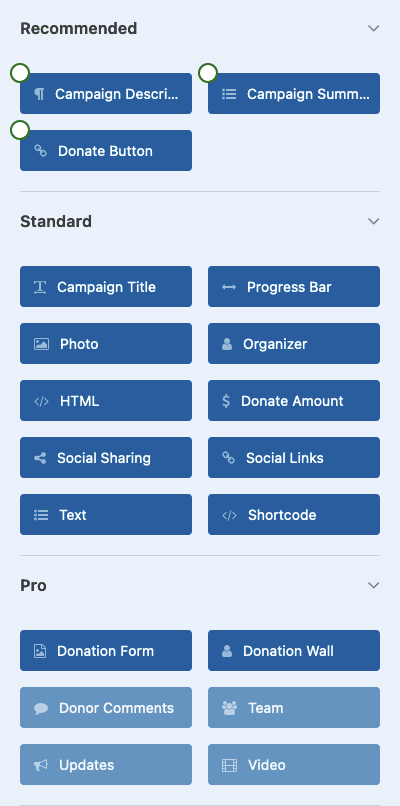 Campaign Title – Show the campaign title (perhaps in a header area if your theme doesn't show the campaign title on the page) in your campaign. Automatically changes if you update the title anywhere in Charitable.
Campaign Description – Update your campaign description using this block. We've combined all description fields into one easy to use and understand area, and you can use this to go into some detail about the campaign. Place it in a tab or up front and visible at the top of the page.
Donate Button – Add a donate button with any custom label.
Progress Bar – Add a progress bar that can also show how much has been donated and what your campaign goal is (if applicable).
Photo – Upload and/or add a photo easily through the WordPress Media library.
Organizer – Add a campaign organizer (author) with their name, title, picture, and a customizable description.
HTML – Add an area of customizable HTML.
Donate Amount – Add ability for a user to select a default or custom donation amount before they donate.
Social Sharing – Add social sharing links (Twitter, Facebook, etc.) right on your campaign page.
Social Links – Link to other social networks (like maybe your company's or campaign's Twitter, Instagram, LinkedIn, TikTok, or Mastodon account).
Text – Add generic text (with a headline) for when you want to add statements, testimonials or other kinds of text on your page.
Campaign Summary – Shows current contribution totals to your campaign.
Shortcode – Insert a shortcode into your campaign page.
Donation Form – Insert the entire form into your campaign page.
Donation Wall – Add a donation wall (similar to our donation wall shortcode) into your campaign page.
Other addons: We are adding compatibly from other Charitable addons into the builder. For example, the Video Addon when activated can currently add a video block which gives you the ability to add a video easily anywhere in your campaign page. With each Charitable update we hope to keep adding and tweaking the addons to make adding functionality and abilities as quick and easy as possible.
Start From Scratch From Simple Layouts…

You can build a simple custom campaign page in a few minutes!
Building a custom campaign page is now faster because we take care of the overall layout and block for you. Just select a simple template and start picking what blocks you'll want on your page… and then drag and drop them over. Customize headlines, colors, alignment, and even add a custom CSS class where you need it. We have made it so creating a campaign page from scratch is easy but not overwhelming.
Creating and publishing a custom campaign page can happen in 5 minutes or less!
…or choose from an existing template for your campaign.

You could have a quality campaign page up in about 60 seconds!
On the other hand, if you want to have a professional look from the start – you can choose from a pre-made template and literally have a polished campaign page up in about 60 seconds! Charitable v1.8.0 comes with nine templates for various types of campaigns, but you can edit these to match what your needs.
Expanded Features for Enhanced Efficiency
Along with this update, Charitable has provided some useful tools and options to give you the control you want from your campaigns after they are created. We have provided easier methods to embed a single campaign into your site (via shortcode or with the new embed wizard). You can also now change the publish status quicker and easier as well – with more enhancements coming in future updates.
Give it a try!
We invite you to give the campaign builder a try for new campaigns (for existing campaigns we have our legacy campaign builder so you can continue to edit and maintain your current campaigns quickly just like before).
Let us know what you think and what you feel we could add in terms of templates and new integrations. This is a new feature for admins creating new campaigns at this time (Ambassadors creating campaigns on the front-end will be as they have always been). We will be making updates to it to make it better. You can always reach out to us for feedback and questions.