With Charitable Newsletter Connect, your donors can opt-in to join your newsletter when they make their donation. Compatible with MailChimp.
Installation
Installing Charitable Newsletter Connect is the same as installing any other Charitable extension. If you're not sure how to do that, we recommend first reading our guide to installing Charitable extensions.
General Setup
After installing the plugin, go to Charitable > Settings > Extensions to set up your newsletter integration. You will see a list of providers that you can choose from (currently only MailChimp). Click "Enable" for the provider that you use.

You can also provide a default list and label to use in donation forms. Both of these settings can be changed on a per-campaign basis.
Provider Setup
MailChimp
On the Extensions settings page, click the "Enable" button for MailChimp. After the page reloads, click "Settings".

There are two settings you can configure:
Your API Key: Find this in your MailChimp account by going to your account page > Extras > API keys.
Double Opt-in: Set this to "Yes" if you want subscribers to confirm their email address before being added to your newsletter list.
Campaign Setup
If you have set up a default list and label in the Extensions settings area, the opt-in will be automatically added to all campaigns. However, the plugin is flexible enough to allow you to override newsletter settings on a per-campaign basis.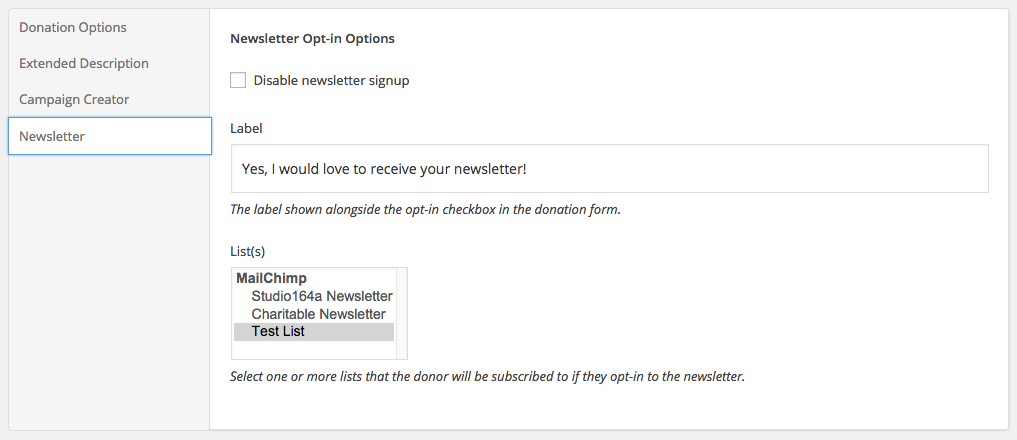 On the campaign editing page, open up the "Newsletter" tab. There are three settings to configure:
Disable newsletter signup: Tick this to remove the opt-in for this campaign.
Label: Change this to a label you'd prefer instead of the default label you provided.
List(s): Select all the lists that you would like your donors to be subscribed to if they opt-in.