Recurring Donations 1.1: Alternative Donations Periods, Recurring Donation Management, and User Privacy & GDPR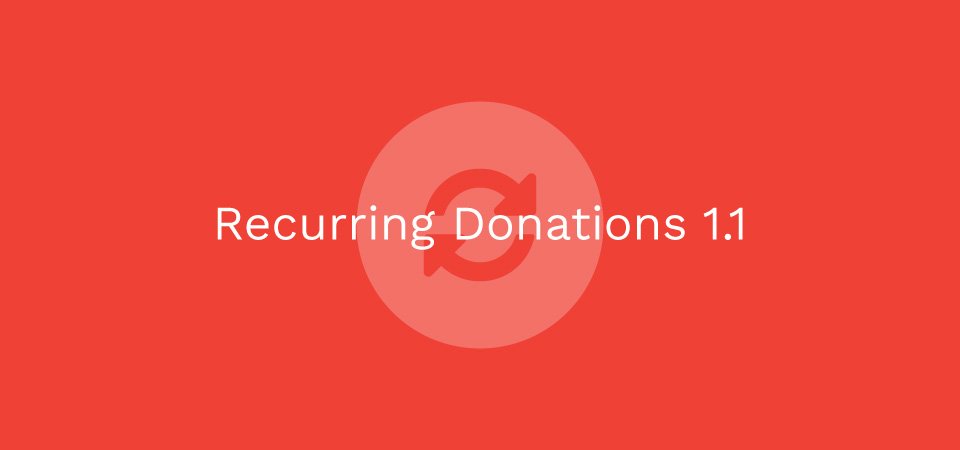 Charitable Recurring Donations 1.1 finally brings two of the most highly requested features. Read on to find out what's new.
Monthly, Quarterly, Semi-Annual, and Annual Donations
Since its initial release Recurring Donations have only been possible with a monthly frequency. This has been the number one requested feature for a while and we're pleased to finally provide the ability to accept donation frequencies: Monthly, Quarterly, Semi-Annually, and Annually. You can set the new Donation Frequency option for your campaign in the Donations Options tab of your Campaign Settings meta box.
There's even a new "Variable" Recurring Donation Mode that allows donors to choose their own frequency. You can choose this option from the Recurring Donations Mode dropdown in the Recurring Options tab. And the result will be a new "Donation Frequency" field in the Donation form.
Donation Management for Admins and Donors
The other most requested feature was the ability to cancel a donation from the website without needing to visit the payment processor's site. In Recurring Donations 1.1 it's now possible for an admin to cancel the recurring donation from the admin panel.
When viewing the details for a particular Recurring Donation, you will see Cancel in Gateway as an option in the Donations Actions meta box for recurring donations made via a gateway that supports this feature. You may need to update your gateway plugin to see this feature. Clicking the Cancel Recurring Donation button will cancel the recurring donation with the gateway, mark the recurring donation as cancelled locally at your site, and if enabled at Charitable > Settings > Emails, send the donor an email confirming that their recurring donation has been cancelled.
It's also possible for the donor to cancel their own subscription from within their My Donations area. By default a link to a donor's Recurring Donations will be added to the output of the [charitable_my_donations] shortcode. However, if you wish to hide that link, you can add the hide_recurring=1 parameter to the [charitable_my_donations](ex: [charitable_my_donations hide_recurring=1]) shortcode. Recurring donations supports its own [charitable_my_recurring_donations] shortcode if you'd prefer to list the recurring donations in an alternative location.
Once donors view their Recurring Donations, they can "View Details" of a specific recurring donation and again, depending on whether the gateway supports cancellation they will see a "Cancel" button under Actions.
Integrating with WordPress' Privacy & Personal Data Tools
Charitable Recurring piggybacks on the major work done by Charitable core to handle users' requests to access or erase the personal data held on your website. All personal data collected by Charitable Recurring is now included in the export tool (available at Tools > Export Personal Data in WordPress 4.9.6). Similarly, all personal data collected by Charitable Recurring can be erased by the erase tool (available at Tools > Erase Personal Data in WordPress 4.9.6).
Charitable Recurring will respect all the Charitable core settings related to the length of data retention, which you can configure by going to: Charitable > Settings > Privacy.
You can read more about how Charitable uses data within your website in our docs: Charitable & User Privacy.
Upgrade Today
If you haven't already, update Charitable Recurring via your dashboard today, and tell us what you think. This is a pretty major update so we definitely recommend taking a backup of your site and even testing things out on a staging site before using in production.
This update has been a very long time in the works and we're excited to hear what you think!