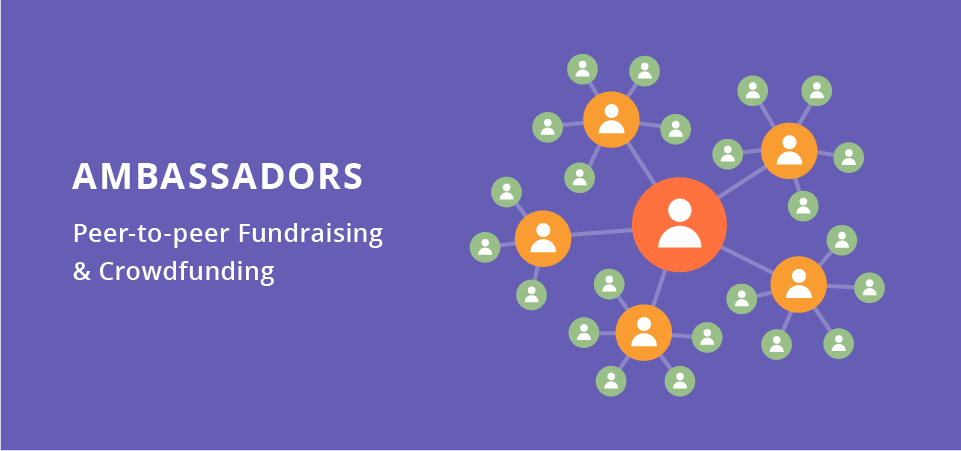 Harness the power of peer-to-peer fundraising to grow your organization's reach and raise more money.
Turn your supporters into passionate ambassadors for your cause
Charitable Ambassadors is the premier plugin for running powerful peer-to-peer fundraising campaigns in WordPress. You can use it to leverage your supporters' network of friends and family to reach more people, helping you spread awareness for your cause and grow your fundraising in an organic way.
Organizations like charity:water, the ALS Association, American Cancer Society and Alzheimer's Association have all started using p2p fundraising as a key way for them to expand their reach. With a WordPress plugin like Charitable Ambassadors, your organization can take a leaf out of their book and run your own peer-to-peer fundraising campaigns, directly from your website.
Save thousands compared to hosted peer-to-peer fundraising platforms
Unlike most peer-to-peer fundraising platforms, Charitable does not charge any transaction fees. For peer-to-peer fundraising campaigns, which typically raise a lot of money, this adds up to significant savings.
Consider this: With a hosted platform charging 5% for every transaction, your organization would lose $5000 on transaction fees for every $100,000 you raise. By contrast, you can get Charitable Ambassadors with an affordable annual fee, saving you thousands of dollars.
Easy fundraiser creation
Creating a fundraiser should be a fast, easy process for your supporters. With Ambassadors, you can customize your fundraising setup form and make it as streamlined as possible.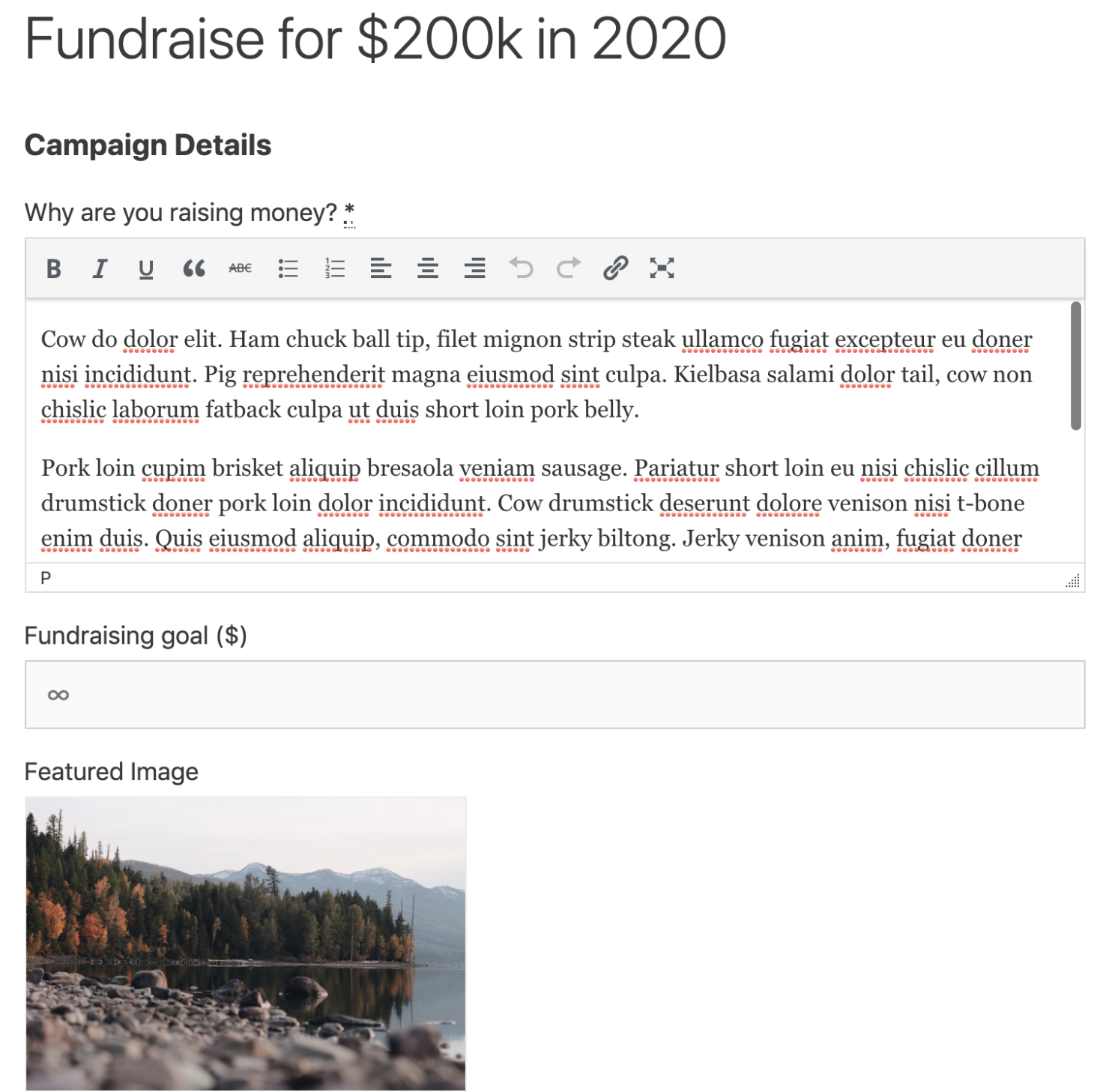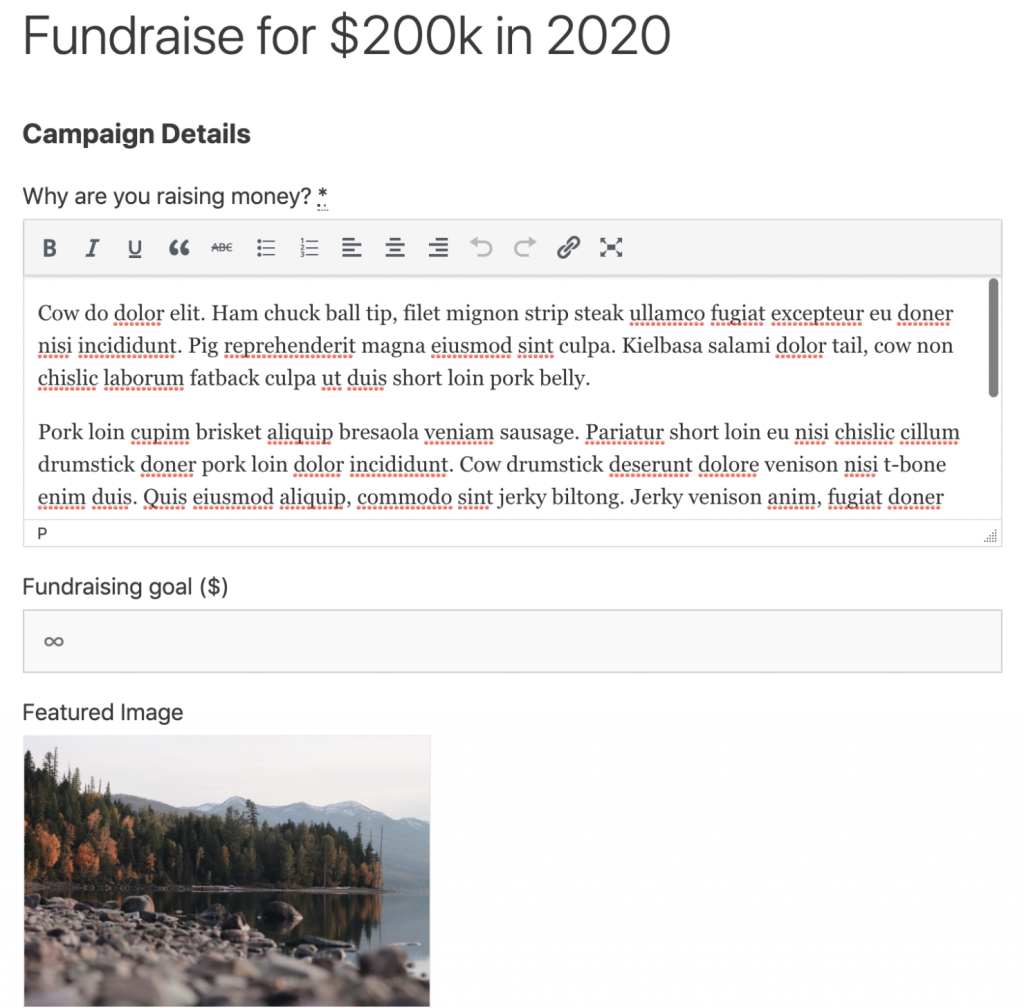 When building your peer-to-peer fundraising campaign, you can control the types of fundraisers that can be set up as well as tweaking the fundraiser fields in the form.
Want to make the fundraiser setup process as streamlined as possible? Set up default text and a featured image for your fundraisers and disable the goal, end date and title fields for your campaign creators.
Prefer to give your campaign creators a bit more choice in how they set up their fundraiser? You can easily enable fields for your campaign creators, so they can write their own fundraiser title, choose the date for their fundraiser to end, set their own goal, write their own message about why the cause is meaningful to them, and upload their own image.
Let your supporters fundraise together
Charitable Ambassadors has full support for fundraising teams. When setting up their fundraiser, your campaign creators can choose whether they would like to fundraiser on their own, join a team, or start a new team.
When a campaign creator sets up a new team, they can automatically invite a list of team members to join their team. Joining a team is quick and easy for a newly invited member — simply click the link in the invitation email and then confirm that they would like to join.

When someone fundraises as part of a team, they will have their own fundraising page where they can receive donations. Any donations received by any team member, or made directly to the team itself, will be reflected in the total funds raised by the team.
Campaign creators can manage campaigns & download their donations
You can provide campaign creators with access to a page where they can see all the fundraisers they have created. From here, they can edit their fundraisers, add new ones, or download the list of donations they have received for their campaign.
Don't want your campaign creators to be able to download a list of donations? You can easily tweak this using the plugin settings, including settings to control how much personal donor information is available in the report, and special settings related to donations made anonymously.
Use email marketing to follow up with campaign creators
You're probably already adding donors to your email marketing list with our Newsletter Connect extension.
By combining Ambassadors and Newsletter Connect, you can also start adding campaign creators to your email marketing list. This feature allows you to stay connected with your campaign creators during the life of their campaign and beyond.
Of course, it may not make sense to add your campaign creators to the same list as your donors. Thankfully, you can customize the email marketing list that your campaign creators should be subscribed to, making it easy for you to tailor your emails to them.
You can even use this feature to set up an email automation campaign for campaign creators, following up with them in the days and weeks after they set up their fundraiser with a series of emails designed to help them run a successful fundraiser for your organization.
Crowdfunding: Build a personal fundraising platform
The Ambassadors plugin also allows you to create a crowdfunding platform, similar to GoFundMe. Simply enable the option for campaign creators to set up campaigns for personal causes, and they will be able to create fundraisers for their own need.
Give people a place to fundraise for their own cause and build a crowdfunding platform focused on your local area, a specific cause, or your own unique angle.
Learn more
Charitable Ambassadors is our most powerful plugin. You can get the most out of it with the detailed setup guide covering all aspects of the plugin.
Not sure if peer-to-peer fundraising is right for you? Here are a couple articles that can help you learn more about it:
Interested in building your own fundraising crowdfunding platform? Discover how to do that in this guide to creating your own crowdfunding platform with WordPress.